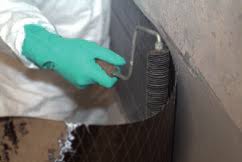 DESCRIPTION
Product Details
Name
MC DUR CF Sheets
Brand
Mc Bauchemie
weight
Price
as per client
Application :
For CF Sheets with more than 400gsm fiber the application should be in wet application method. For wet application system MC-Dur 1209 should be applied on the substrate as a primer and entire CFSheet should be impregnated manually with MC DUR 1209 TX. Afterwards the CF Sheets are pressed to achieve 100% bonding with the substrate using a lamination roller or similar tool and then coated with MC Dur 1209 TX applied by roller. Care must be taken during application that the Carbon fibers are completely embedded in the adhesive. If applied in several layers, the subsequent layer of CF-Sheets is pressed into the fresh adhesive and afterwards coated again with MC DUR 1209 TX. If used on surfaces exposed to weathering the CF-sheets must be protected against direct sun by application of UV resistance surface protection system. 
General information :

Higher temperatures shorten while lower temperatures extend all indicated times,As a general rule of thumb a temperature change of 100 C either halves or doubles the indicated pot life.

Read Date sheet and specification.